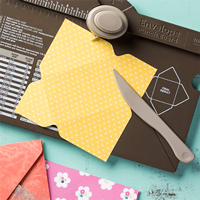 Envelope Punch Board

133774

Price

:

$38.95

Why go with boring, white, normal-sized envelopes when you can use colorful paper to create everything from itty bitty to long and skinny? Our creativity-boosting Envelope Punch Board makes it easy to customize envelopes in up to 66 different sizes!

Envelope Punch Board includes:
* An easy-to-use chart to create up to 66 different envelope sizes (including standard sizes). The measurements are provided both in inches and centimeters.
* A scoring tool in a convenient storage slot.
* Two punches designed right into the tool itself: one to make the envelope and one to round its corners.



Order online by clicking my "shop now" button ( use hostess code

NT7PPVFG when promted)

or email me your order .